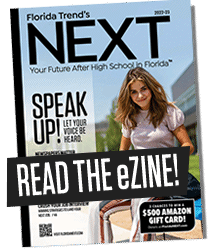 In its 23rd year of publication, Florida Trend's NEXT: Your Future After High School in Florida™ has earned a reputation as a high-quality publication that provides students with important information about high school life, college preparation and career opportunities. NEXT is designed and written to be relevant primarily to 11th and 12th grade students who are college bound. The magazine has gained wide acceptance and usage by teachers and counselors because it presents crucial information in a teen-friendly format. It's the "next" best thing to having a personal guidance counselor for students seeking answers to tough questions about their futures.
Published once a year at the beginning of the school year by Trend Magazines Inc., NEXT is distributed to 125,000 students in public and private high schools. The magazine is provided free to students and free to schools.
Please contact your Regional Marketing Director for more information.
How to Get a Copy of the Magazine
If you're a Florida high school student, check with your school's guidance office first to get your FREE copy. Or contact our Customer Service Department by phone at (727) 892-2643 or by email.
How to Reach College-bound High School Students in Florida
For information about ways to reach 125,000 Florida high school students, or to receive a rate card for the 2022-23 edition of NEXT, please contact our Advertising Team.
Want to Contact Us?
Have you have an idea for a future article?
• Fill out our submission form!
Have a question or want to share how NEXT magazine or this website has helped you? Fill out the form below!