What If You Could Get Paid to Go to College?
You can! Here's how.
Scholarships are the best form of financial aid. Unlike loans, which have to be repaid, scholarships are free money given to you to help pay for your college expenses.

Think you have to be super smart or demonstrate significant financial need to get a scholarship? Think again. There are literally thousands of scholarships out there.

You might be able to land one because of a unique skill or talent. You might also be eligible for scholarships based on your ethnic background, the school you plan to attend or even the town where you grew up.

To get started, have your family fill out the Free Application for Federal Student Aid (aka the FAFSA). This will be used to determine your family's financial need.

Even if you think your parents are "too rich," filling out the FAFSA is still highly recommended. Some scholarships require you to have one on file even if the award is not dependent on family income.

Filling out the FAFSA also helps qualify you for other forms of financial aid, like grants, loans and work/study programs, which we'll talk about more in a second.

But the FAFSA is only the beginning. Here are three other types of scholarship programs, many of which require you to write an essay or submit an application separate from the FAFSA:

National — These are typically awarded by big companies and organizations. For example, Coca-Cola gives a $20,000 scholarship to 150 students every year. Check out coca-colascholarsfoundation.org.

Local — Smaller companies and organizations in your community may also offer scholarships. They may not offer as high a payout as the national scholarships, but they're usually less competitive.

Micro — Want to start earning scholarships today? Check out Raise.Me. The platform allows colleges to award you money for accomplishing goals like getting good grades, completing projects and taking on leadership roles while you're in high school. While you may receive scholarship offers from multiple schools, you'll only be awarded the money by the school you decide to attend.

Make It Possible
Financial aid programs are awarded on a first-come, first-served basis; the earlier you apply, the better. To learn more, check out fafsa.ed.gov.

Read all the instructions for applying.

* If you have to write an essay, be sure to read the prompt thoroughly. Stay on topic and stick to the target word count.

* Read your essay aloud. If a sentence sounds weird to you, it will likely sound weird to the judges.

* Don't pontificate. (Don't use big words for the sake of using big words.)

* Show, don't tell. Don't just say you have excellent leadership skills; give examples of how you use those skills in a team environment.

Scholarships aren't the only way to get money to pay for your college expenses. Here are three other types of financial aid:

Grants don't have to be repaid. Who qualifies: Usually based on financial need.

Loans have to be repaid, often with interest. Who qualifies: Everyone, though lower interest rates may be available to those who demonstrate financial need. Florida colleges and universities are required to provide you with an annual report that details how much student loan money you've borrowed, your anticipated total loan amount and expected monthly payments. Learn more about student loans here.

Work-Study is earned money, so there's nothing to repay. Who qualifies: This program provides students who demonstrate financial need with a part-time job where they can earn money while taking classes. Work schedules are designed to not interfere with your college course load.

In many cases, the money is given to the college or school you attend. Once your tuition and fees are paid, any money that's left over is sent directly to you. It's like you're getting paid to go to college. You can use the money any way you please, but don't be tempted to spend it all on clothes or a new phone.

In Florida, the average annual in-state tuition at a public four-year institution costs around $6,300.
It's one of the lowest rates in the country.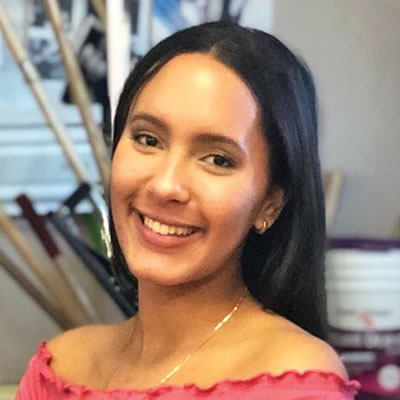 "My top tip for applying to scholarships is to be yourself! If you like writing, look for writing scholarships. If you enjoy playing sports, apply for scholarships that relate to sports. If you're having trouble finding scholarships or applying, ask a teacher, mentor, school counselor, friend or family member for help."
Ailyn Alissandra Alvarez Perez, 16, junior at Boca Ciega High School