What if I don't know what I want to be when I grow up?
You're not alone. Here are some tips to help you figure it all out.
Things are about to get real.
During your junior and senior years of high school, you have to make some major decisions about your future.
First up, you have to decide what kind of schooling or training you want to pursue after you graduate from high school.
Don't think you need any more education than a high school diploma? Consider these stats. As you can see, the more education you have, the more money you can make in the future.
Down below, we talk about all of the different ways you can get career training after high school. You can attend a state or private university or go to a career school or state college.
To help you figure out which option is best for you, you have to start thinking about the dreaded question "What do you want to be when you grow up?"
Notice we didn't say you have to answer this question. You just have to start thinking about your options.
Doctorate degree – $84,396
Master's degree – $69,732
Bachelor's degree – $59,124
Associate degree – $41,496
Some college, no degree – $38,376
High school diploma – $35,256
No high school diploma – $25,636
Whoa! People with a bachelor's degree make more than twice as much as those without a high school diploma or GED.
Begin with the End in Mind
Many students think they should pick a school, then decide what they want to study, and then use their training to find a career. Instead, ask yourself what careers you're interested in and what degree programs will help you get there. Then, apply to the schools that specialize in those majors or courses of study.

Not Sure? Don't Stress
As many as half of students enter college undecided about which major to pursue. And an estimated 75 percent change their major at least once over the course of their studies.
After you graduate from high school, your life will change. You might find yourself changing along with it. You may discover new passions and interests and find out you have strengths you never knew existed.
If you attend a college or university, you may also learn about new-to-you fields of study like marine biology, developmental psychology and packaging science.
How the heck can you know what you want to do if you don't know all the options available? To start, talk to your counselor about the resources available at your school. Some state colleges also allow local high school students to use their career planning tools. And don't forget all the great resources on www.MyCareerShines.org. They offer several quizzes to help you discover your interests and career options.
Another great resource is www.unmaze.me/college-unmazed-guidebook. This handy guidebook goes in depth on the Florida state college and university system. It also provides tools to help you decide which degree program is best for you.
Think outside the box
One of the most common questions on any career assessment is "What do you love to do?" This is a great place to get started. But equally important are out-of-the-box questions like:
What do you hate to do? Chances are even if you don't know what you want to do when you grow up, you know what you DON'T want to do. This can help you hone your focus. For example, do you hate being a stickler for rules and details? Then congrats, you know you don't have to look at any accounting or finance majors. Instead, consider something more creative, like marketing or design.
Who are your heroes? Or the characters you most admire on TV and in the movies? What do they do? Even if they have a fictional job, like dragon slayer or vampire hunter, what qualities about their daily lives do you admire? Maybe you like how they work with a team to solve problems. Or maybe you think it's cool they don't spend all day in an office. If so, maybe you'd enjoy a job in sales or construction, which would allow you to spend more time on the road.
What did you want to be when you were a little kid? There's a lot to learn from what your dream career was when you were in elementary school. And heck, maybe you still want to be an astronaut. There are schools in Florida that can help you pursue any goal — no matter how big! Check out the Discover Programs tool on www.FloridaShines.org to learn about the degree programs offered at each school.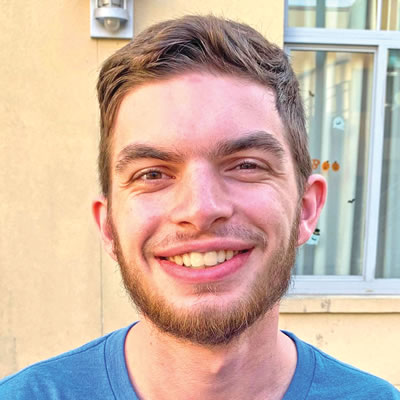 "Your parents and mentors will probably tell you to do something you love and find a way to get paid for it. That is so true. Do you enjoy video games? Consider majoring in computer science or art. Don't pick a major because society tells you it's a good idea. Pick something you genuinely want to pursue. While attending classes at Venice High School, I interned at the Missouri University of Science & Technology. Working in their labs helped me discover my passion for chemistry, which is what I decided to study in college. I love how studying chemistry helps me understand the world around me at a fundamental level. After earning my bachelor's, I hope to pursue a Ph.D., then become a research and development chemist."
Alex Bottorff, 21, senior at New College of Florida
Let your interest guide you
As you're discovering all the possibilities available to you, the better you know yourself, the better prepared you will be to recognize if an opportunity or field of study is a good fit for you.
Your school counselor can likely hook you up with some quizzes and resources for discovering your interests and passions.
There are also 100 CareerSource Florida centers across the state where you can meet with a career counselor and learn more about the options available to you.
Explore Your Options
After signing up for a free account on www.FloridaShines.org/find-a-career/plan-your-future, you can take the Kuder Career Interests Assessment®. This well-respected quiz helps you explore career options by analyzing your level of interest in areas such as:
I like to perform for an audience.
STRONGLY DISLIKE | DISLIKE | NEUTRAL | LIKE | STRONGLY LIKE
I like to learn about recent advances in science and technology.
STRONGLY DISLIKE | DISLIKE | NEUTRAL | LIKE | STRONGLY LIKE
I like to work with families who are needy or poor.
STRONGLY DISLIKE | DISLIKE | NEUTRAL | LIKE | STRONGLY LIKE
I like to install flooring in a room.
STRONGLY DISLIKE | DISLIKE | NEUTRAL | LIKE | STRONGLY LIKE
I like to research climate change solutions.
STRONGLY DISLIKE | DISLIKE | NEUTRAL | LIKE | STRONGLY LIKE
I like to research climate change solutions.
STRONGLY DISLIKE | DISLIKE | NEUTRAL | LIKE | STRONGLY LIKE
CareerSource Florida: Your Source for Career Guidance
CareerSource Florida is a statewide organization that offers Floridians as young as 16 free job-prep services and training. Their local teams can help you with everything from picking a career to writing your resume to finding part-time jobs and internships in your community.
If you're feeling overwhelmed about your future career path, why not set up a meeting with one of their counselors?
"CareerSource Florida's career counselors can help you figure out what you're good at and how your current interests and passions can help shape your future career. You might even learn about job opportunities you've never heard of before. Before meeting with the counselor, take a few minutes to write down what you're good at and what classes and volunteer or extracurricular activities you've enjoyed. This will help them suggest the best options for you."
Michelle Dennard, President and CEO, CareerSource Florida
Make it Possible
CareerSource Florida offers 24 local workforce development boards and 100 career centers throughout Florida. To find one near you, visit careersourceflorida.com/your-local-team/
Get 'em while they're hot!
Here are the jobs expected to see the most growth in the coming years, listed from hottest to coolest annual median salary.
Note: The word "median" means "middle." A job's "median salary" represents the halfway point in what someone with this position earns. Half of the people with the job title earn less and half earn more.

Application Software Developer – $101,790
Medical Services Manager – $98,350
Registered Nurse – $70,000
Medical Technologist – $51,770
Construction Laborer – $34,350
Nursing Assistant – $27,520
Home Health Aide – $23,210

See the full list here.
Don't forget vo-tech training
The state recently passed a bill to promote more vocational and technical training in schools. The goal is to help prepare students for highly skilled careers that are in high demand — and pay well. It will also let students use their vo-tech training to meet some high school graduation requirements.
"I went to a vo-tech high school and learned to weld," Republican Rep. David Smith told wptv.com. "It became very important to me, maybe critical to me, when my very first week in college, my parents' tuition checked bounced. I had a skill to fall back on and I worked my way through college and graduated debt-free because I had a trade."