What Does it Take to Run for Office?
You could be president!
One of the coolest perks of turning 18 is that you finally get to vote. Voting isn't just about choosing the next president. You can vote in local, state and congressional elections. Your vote lets you have a say in issues like health care, civil rights and education. But what if you want to do more than just have a say? You can take it to the next level and run for office.
We're here to cheer you on.
Running for LOCAL offices There are many offices in your city and county. You could get elected to the city council or school board. You could even run for mayor. Each city and county holds elections at different times. Google your county name and "supervisor of elections."
Running for STATE offices At the state level, you could run for governor or attorney general. Florida has 40 seats for state senators, 27 representatives, and officials overseeing finance and agriculture. You can follow this link to learn about Florida's election system: dos.myflorida.com/elections.
Running for FEDERAL offices Want to hang out in Washington? You could represent Florida in Congress or even run for president.
What does it take to run for office? Many elected positions have age requirements. You have to be 35 to run for president and 30 to run for governor of Florida. That's because the biggest indicator of success in an elected position is experience.
You should start seeking out leadership positions now, developing your political muscle. Most schools offer students the chance to run for student government. You can lead extracurricular activities like sports, band and theater.
You could also seek out leadership roles in your community. Check out Ashley's story below!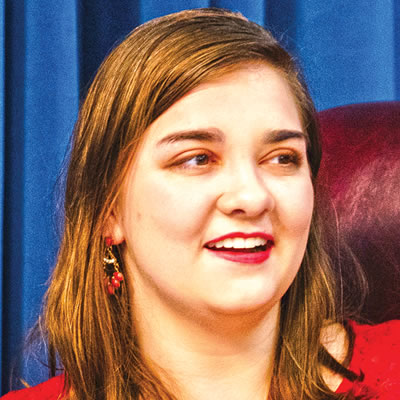 Taking the Lead
"During my senior year of high school, I served as the Leon County Schools Student School Board member. My job was to act as a direct link between the school board and all the students in the district. I didn't get to vote on any matters that came before the board, but I was always encouraged to share how I thought a decision might impact my peers. If you want to get involved in politics, you can start by taking on leadership roles in something you're passionate about, whether it's art, music or sports. There are so many opportunities to get involved, especially when you're in school. Talk to your teachers and counselors to learn more about the opportunities available to you."
Ashley Campbell, 18, Freshman at the University of Tampa, graduate of Leon High School
How to register to vote
Visit dos.myflorida.com/elections to download a registration form. Fill it out, then send it to your county's supervisor of elections. You'll find their address on the second page of the application. Once you get your voter ID card, you'll have the power to make a difference in your community and in the country. Nice!