"The time is now." That's South Florida native Lauren Bartel's life philosophy. When she has a question, she answers it; when she sees a need, she addresses it. Although Lauren is just entering her sophomore year at Gulliver Preparatory School in Coral Gables, she boasts an extensive resume of research, activism, and changemaking. Last year, Lauren tried to join the local Audubon Society's youth program but found out that there wasn't one — so she started her own. She now leads evening and weekend workshops on local birds and the effects of sea-level rise and urban sprawl. She also teamed up with a local university professor to successfully write a Greening Youth Foundation Environmental Leaders grant. At the same time, Lauren was making inroads with the Rosenstiel School of Marine and Atmospheric Science at the University of Miami. She went straight to the top, emailing the assistant dean. The result? Lauren's now a member of a research team that studies population genomics and a small salt marsh minnow, Fundulus heteroclitus. Passionate and curious, Lauren loves the sciences and the humanities in equal measure.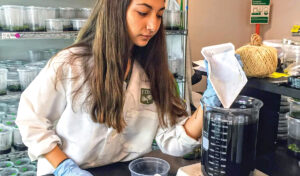 She says, "They may seem distinct, but they both involve exploration and experimentation that lead to answers, inspiration, and connection."
For Lauren, painting, creative writing, and laboratory work all have the same goal: storytelling. Only 16, her stories are already pouring out. Lauren has won national writing awards and plans to publish her first novel, A Starry Night in Manhattan, in 2020. She has testified in front of public officials and agency representatives at local, state, and federal levels, advocating for Everglades habitat preservation, conservation, and sustainability.
"My advocacy hasn't happened through some class, teacher, school project, or formal activity," Lauren says. "These things really matter."
And Lauren knows that she's not the exception, but the rule.
"The most creative, uninhibited, open-minded age group in society [is] teenagers," she says.
So she founded Our Bright World, a non-profit organization that celebrates her peers' ingenuity. "We encourage them to invent and innovate things of community-changing significance," Lauren says.
Her goal is to provide funding, guidance, and a platform for student-led projects in the sciences, engineering, and technology. Lauren is proof that you don't need to wait for the perfect time to make your voice heard. The best time is always now. Lauren has testified before local, state, and federal officials, advocating for Everglades habitat preservation, conservation, and sustainability. In the spring of 2020, as Florida schools suddenly transformed into distance learning institutions, Lauren had to quickly figure out how to move her peer tutoring program online. The challenges she faced got her thinking: What about all of the younger kids who were now missing out on face-to-face time with teachers and friends? Lauren got to work, recording herself reading books aimed at kindergarten and elementary school students. She sent the files off to teachers at a local elementary school, but that wasn't big enough, so she pitched her read-aloud program to the largest toy retailer in the country. They signed on, distributing her videos to their customer email list.
"The response from parents, teachers, and kids has been amazing," she says. As the pandemic continues, Lauren is working on expanding her program to be sustainable for the long term.