It Started with a Sign: Need Food. Lost My Job
Four-year-old Joshua Williams of North Miami Beach asked his mother to read it to him, then to explain what it meant. She told him that the man was hungry and living on the street. With a new $20 bill in his pocket, given by his grandmother earlier that morning, Joshua saw a simple solution to a difficult problem.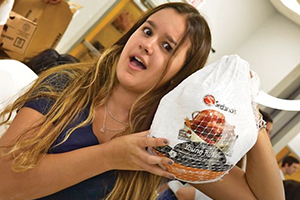 That was the first meal that Joshua provided. "It was destiny," he says. A sign.
In the 15 years since that day, Joshua and the organization that bears his name, Joshua's Heart Foundation (JHF), has provided 2.2 million pounds of food to his community and raised over a million dollars.
Joshua learned at an early age about the staggering number of hungry people in the world, many of them children like himself, and found that most non-profit and charitable organizations require volunteers to be at least 16. Frustrated, he took to asking his mother for help every day on the ride to and from school. Joshua and his mom turned to their large, close-knit family and began cooking for the homeless population of Miami Beach. For two years, they fed their Jamaican dishes to a whopping 200 families every night — later realizing that their "family project" required a permit.
In 2008, Joshua's aunt heard about 501(c)(3) non-profit status on the radio. Joshua quickly enlisted not only family but also his friends to work for Joshua's Heart. Seeing the drive and compassion that people his age had for helping others, and remembering the lack of volunteer opportunities for kids, Joshua created the Junior Advisory Board. The JAB provides a space for young people to give back to their community; it gives them leadership experience that they can get nowhere else; and it ensures that the organization can run itself even without his direct daily involvement.
Today, as a third-year student at the NYU Stern School of Business, Joshua still consults with the board and assists in major decision-making, but he has gracefully relinquished his central role. Joshua plans to start his own business after graduation, which he hopes will complement his work with JHF. He sees active, meaningful collaboration between the corporate world and charitable organizations like his as the future of business.
"I've grown up with Joshua's Heart," he says, "and Joshua's Heart has grown up with me." But, he insists, "It's much bigger than me now."
The JAB at Joshua's Heart has had hundreds of members in the last decade, mostly high school and college student volunteers who participate in the administrative and logistical sides of the service organization — a rare opportunity for teenagers.
Former treasurer and chair of the JAB Navya Baranwal started a local chapter of Joshua's Heart, called Nourishing Our Mankind (NOM), at Miramar High School near Miami. A decade after she began volunteering as a ninth grader, Navya says she retains senses of service, leadership, and commitment that she learned on the JAB, which she hopes will serve her well in a career at the intersections of medicine and public policy.
Benjamin Obando credits his time with Joshua's Heart as vital to one day becoming a successful physician. He started volunteering each week at the JHF pantry in North Miami Beach last year, as a student in the Florida International University Honors College. Alongside Joshua's grandmother, Ms. Peggy, Benjamin unboxes donations before packing and distributing them to families within the community.
As a volunteer, Benjamin was able to get to know the families he was serving, an excellent preparation for establishing doctor-patient relationships. It's all about "wanting to help people," says Benjamin.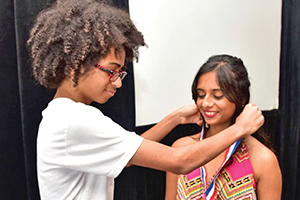 One recent graduate of Immaculata-LaSalle High School in Miami, Chiara Kusmierek, felt a similar connection. Chiara began volunteering with JHF in 2016 to fulfill her community service hours requirement, but quickly realized that advocating for others and helping to improve their lives had "deeply enriched [her] life." She also served as social media director for the foundation.
Chiara plans to continue her work with JHF and other service organizations as a student at the University of Florida, majoring in finance. Like Joshua, she sees the role that service plays in a full life, including business.
Sydnie Costa-Martinez, who has known Joshua since the third grade, agrees that paying it forward is one of the cornerstones of JHF. Over her years working with the foundation, including serving on the Junior Advisory Board, Sydnie has seen many volunteers go on to start their own charitable efforts.
Sydnie says the memories she has made serving on the JAB will stay with her forever — both the successes and the challenges. "Growth doesn't happen without pain or struggles," she says. "Being good to others shouldn't come at the price of not being good to yourself."
Sydnie will be graduating from Miami's MAST Academy in 2021. She hopes to pursue a legal career so that she can continue advocating for others.
In the spring of 2020, the COVID-19 crisis hit Miami nearly three times harder than anywhere else in the state. With so many people out of work or unable to safely acquire groceries, Joshua reports that the foundation saw a 1000% increase in the number of families requesting aid or attending the twice-weekly distribution at their food pantry. They have also seen a massive bump in volunteers and donations.
Volunteers (with the help of Miami-Dade government officials and other local organizations, such as Feed the Children) stepped up the number of home deliveries. NFL star Johnathan Cyprien, who grew up in North Miami Beach and attended Florida International University, helped JHF deliver food and household items to 426 homes on April 3. By May, Joshua's Heart was feeding an average of 1,000 families every week.
Meeting challenges head on is what Joshua's Heart does best. Joshua reports many challenges and failures along the way. Starting the organization at such a young age necessarily meant a long learning curve.
"When you do fail, you have to learn from it," Joshua urges.
For 15 years, the growth mindset has served Joshua's Heart well. It has chapters across the U.S. and around the globe; its youth volunteers have launched hundreds of their own service efforts; and they have directly helped half a million people through food recovery and distribution, backpack donations, and other programs.
Joshua's Heart may have begun with one kid and his family, but now, his family has over 25,000 members.