SPOTLIGHT ON: Child Life
Nursing has always been and continues to be a booming industry. And we all know that our parents or grandparents would love for us to become doctors or surgeons. But what if you just aren't interested in medicine? Enter child life, a burgeoning health care adjacent field in which you can support, educate, and empower children and families during medical challenges and trauma. You'll need to bring your creativity, enthusiasm, empathy, and communication skills to the hospital or community setting where you work.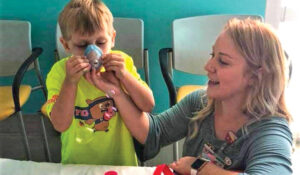 Jenna Read, MS, CCLS, was on track to become an elementary school teacher when she first heard about child life from her advisor at the University of Central Florida. She began exploring the field online ("I watched a lot of YouTube videos," she admits) and signed up to volunteer at Nemours Children's Hospital in Orlando. The experience convinced her to change her major to early childhood development with a minor in psychology.
Jenna begins her day at 6:30 a.m., combing through her list of 30-40 patients. From there, she might guide a patient through a surgery simulation on a teddy bear, then use syringes to splatter paint on canvas with a child who's afraid of needles. She'll create congratulatory "End of Chemo" signs and present at Nursing Grand Rounds. Her day often ends in the Cardiac Intensive Care Unit, where she provides coping support and translates hospital jargon for the families of her infant patients. A big part of her job is bereavement support, including developmentally appropriate education about death and "memory-making" activities, like capturing handprints on canvas or saving locks of hair.
It's an emotionally and intellectually challenging job — but also a rewarding one. To get started in child life, you'll need an undergraduate degree in child development, psychology, or a related field, and certification, which requires a practicum, a 600-hour internship, and a certification exam. There's a lot to do to become a child life specialist, but don't give up! "Be determined, steadfast, and personable," Jenna says. "Remember to throw your net far, diversify your experiences, and have fun! The root of child life is knowing how to play with a purpose."
Start your journey at childlife.org/certification.
SPOTLIGHT ON: Cybersecurity
As our lives move increasingly online, the IT and cybersecurity fields are growing exponentially. New tech creates new jobs — and new risks. If you're good with computers and want to work in a fast-paced, innovative environment, cybersecurity might be worth pursuing. From an IT perspective, there are three primary kinds of work in this industry: operations (system administration, patching, desktop imaging, etc.), security (monitoring, threat hunting, incident response), and enterprise risk and compliance. Each sector is looking for workers who are flexible, innovative, and risk-facing — and all require critical thinking skills. You'll need to identify a problem, break it down into its components, understand how they relate and flow, and build a solution. An engineering vice president for a major software firm has this recommendation: "Learn a scripting language (like Python) and apply it to something useful. Find a job where you can apply that skill to automate processes and add value. Learn new scripting languages and build solutions. Never stop learning. That's how you build your toolbox."
Cybersecurity is also one of the only growth industries that offers advancement opportunities, high earning potential, and nationwide availability without requiring a four-year degree. Instead, you can get there through online certification programs, internships, and entry-level jobs where you can gain experience and skills. (One exception: for programming gigs, a university education is the way to go.) You could also start with an IT-related job in the military, where you can get the necessary training in addition to security clearances and experience working on a team. Going the online certification route? Try Udemy, Skillsoft, Microsoft, and Cisco.