Feeling Anxious or Depressed?
Talk About It
About 20% of American teens struggle with some kind of mental health issue. The most common conditions are depression and anxiety.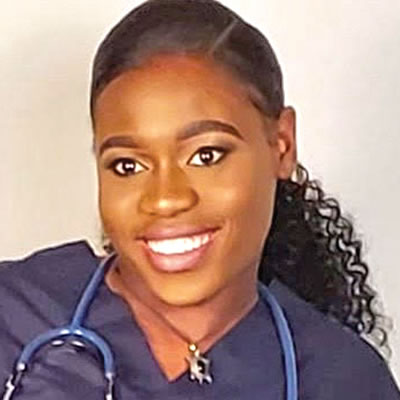 "Life is a lot harder for teens nowadays," says Keron Grey, 18, a freshman at Florida State University.
When Keron was a freshman in high school, she started feeling bad. She struggled to keep up with her classes and she stopped enjoying her extracurricular activities. At the time, Keron felt like there was no one she could talk to about her feelings. To help herself — and other students — process their emotions, she became an active leader in several organizations at her school.
She was the president and director of The Ladies of Intrigue at Blanche Ely High School, a group of 90 young women who get together several times a month to talk about the issues they're facing and lean on each other for support. She also became part of a mentorship program that brings in local entrepreneurs and business leaders to talk to students.

"It's brought me a lot of peace knowing I'm not the only one who experiences these ups and downs."
Don't suffer in silence.
Let's be real. Being a teenager is hard. The symptoms of anxiety and depression — irritability, difficulty sleeping, mood swings, feeling worthless, thoughts of death or suicide — can be confusing and scary. But asking for help is a sign of strength. Do not be afraid to reach out to the people around you for help.
People to consider talking to when you're feeling down:

• A trusted adult — whether it's your parents, a friend's parents or a family friend
• Guidance counselor or teacher you admire, or a former teacher
• Someone at your house of worship
• The non-emergency number for the local police department
If you need immediate assistance, contact:
Text HOME to 741741
National Suicide Prevention Lifeline
1-800-273-TALK (8255)