Facing Challenges Pursuing Dreams
These students won't let anything hold them back.
Every day we face obstacles — situations that threaten to hold us back and stop us from pursuing our goals. Meet six Florida students who overcame significant challenges growing up. Their experiences were different, but each student says nothing would stop them from pursuing their dreams of attending college.
"My parents were never a part of my life."
Briana Bellamy, 17, a senior at Astronaut High School, was raised by her grandparents for a time, bounced to other family members, spent time in foster care and was eventually adopted by an uncle she had never met.
Life is good now, but Briana says she'll never forget the lessons she learned along the way. Even as she was bouncing from home to home, there was never a time when she thought she wouldn't go to college.
"I've always told myself I have to make something of myself. I learned education is everything. No one can ever take that away from you," she says.
When asked what advice she would give to other students who have had a tough upbringing, Briana says this: "If people weren't consistent for you, then you have to be consistent for yourself."
"We had to start over."
Alice Artica, 18, a freshman at Stanford University, grew up in Honduras. When she was 12, the country's growing problems with gang violence prompted her family to move to Florida.
But it wasn't easy. In Honduras, the family lived in a big two-story home. When they moved to Florida, they lived in a tiny one-bedroom apartment where she had to sleep on the floor. All her belongings had been reduced to two suitcases' worth of toys and clothes.
"It was very hard at first," Alice says. "It was like starting all over again."
Alice carried a Spanish-English dictionary wherever she went. But eventually her language skills grew. During her sophomore year at Treasure Coast High School, her Spanish teacher asked if she could help two new students who had recently moved from Honduras. She tutored them in mathematics, anatomy and physiology, as well as English.
"It's hard surviving high school when you're from a different country," she says. "We'd talk about our memories and eventually became very close friends."
She reminds them and other students that you should never give up on achieving your goals. "You are the strongest version of yourself when you face adversity to achieve your goals. It might be hard now, but your story will serve as an inspiration to others."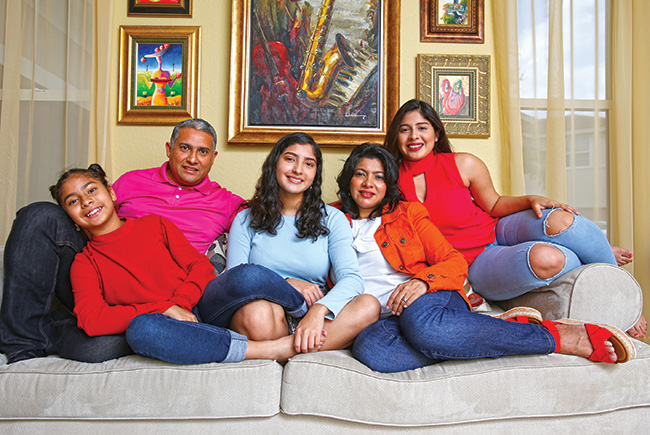 "My dad's in prison."
When Pa'Shay Leaks was 8, her father was arrested.
She doesn't know why he's in jail or how long he'll be there. When he was arrested, she didn't cry. She was too angry.
Pa'Shay watched as some of her friends started making bad choices like skipping classes or getting into fights. She doesn't want to end up like them. "I try to stay on the right route. I don't want to go to jail or get in trouble."
Now 15 and a sophomore at Lakewood High School, Pa'Shay wants to become a lawyer and, eventually, a judge.
For students who are in a situation like hers, Pa'Shay says you have to stay strong. "You have to think for yourself and work hard to get where you want to be."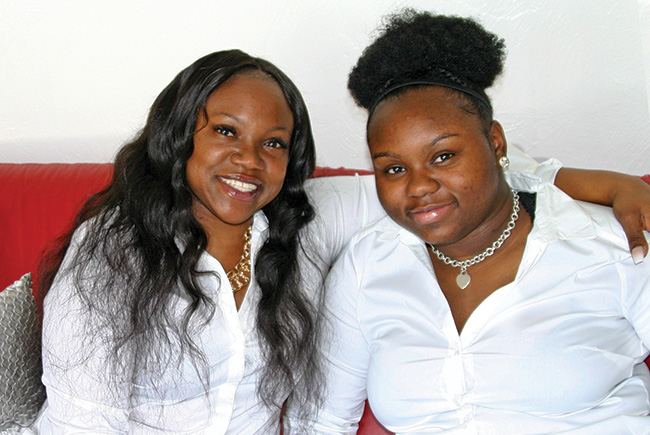 "A hurricane took my home."
They were normal high school seniors, busy getting ready for graduation, making plans with their friends and finalizing their college applications. Then, on Sept. 20, 2017, Hurricane Maria hit Puerto Rico and changed their lives forever.
Luis Enrique Ferrer-Santana, 18, and Natalie Marie Rivera Pabon, 18, now both freshmen at Florida State College at Jacksonville, grew up in Puerto Rico and lost their homes when Hurricane Maria hit the island.
Their families made arrangements to come to Florida. And while Natalie and Luis were excited to have electricity, running water and food, they were sad to leave their friends and extended family behind.
They had known their classmates most of their lives. They had all hoped to graduate together. Instead, Natalie and Luis, who didn't know each other in Puerto Rico, ended up at Englewood High, a school full of strangers.
The transition wasn't easy. While they didn't have any problems transferring their high school credits from their schools in Puerto Rico or getting accepted into college, the students said the classes were more rigorous here. It was also hard because everything was in English.
Luis and Natalie say they realize how much they had taken their homes, their friends and their plans for granted.
"Appreciate what you have," Luis says, "because it could all be taken away."
"Never let your situation hold you back," says Natalie.
"This is part of my story."
When Camila Herrouet was 2 years old, she was badly burned and had to undergo multiple reconstructive surgeries. A complication from a prescription drug left her deaf in one ear.
When she was younger, kids teased her about the scars on her arm. Some people still say hurtful things, she says.
Sophomore year at Treasure Coast High School, Camila applied to Stanford High School Summer College at Stanford University. As part of the application process, she had to write an essay about "what makes you different." One of her teachers encouraged her to go deep and explore her feelings and emotions about her scar.
"Even though it was just an application essay, the experience of putting all my feelings on paper was life-changing. Now I'm more open. If someone asks me about my scar, I tell them what happened. My parents own a dance studio and sometimes the younger kids will point at my scar and ask what it is. Before, I would try to change the subject. Now, I talk to them. Educating little kids and letting them know some people are different changes their perspective."
"When I look at my burn now, sometimes I'm like, I wish I didn't have this. But other times I realize this is part of my story. Everyone has their own mark, whether it's physical or something emotional that you can't see. It's just part of who we are."