How the ROTC Helped Me Take Charge
Curious how the military could fit into your college plans? One student tells how joining the ROTC helped him succeed.
One of Cadet Alexsander Zuniga's most vivid memories is attending his older brother's graduation from U.S. Army basic training.
Alexsander was only 8 years old at the time. His brother, 11 years his senior, looked so proud on the stage.
Something clicked.
"I wanted to be just like him," says Alexsander, 22, a senior at Miami Dade College.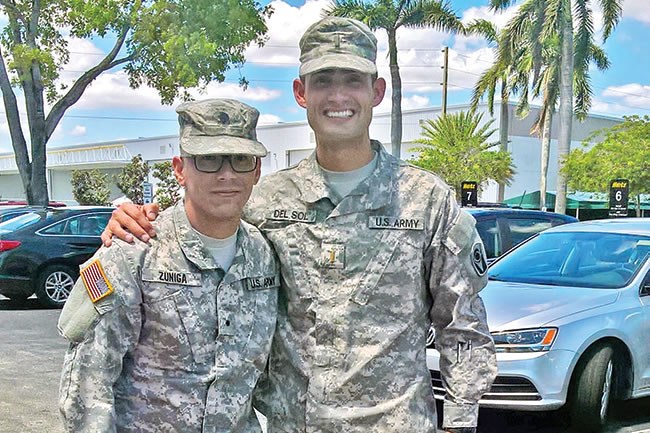 Alexsander Zuniga, left, poses with U.S. Army Second Lieutenant Hector Del Sol, an officer he considers one of his role models.
In ninth grade he joined the Junior ROTC program, progressing on to the senior level during his third semester at Miami Dade.
"The junior level is more focused on breaking kids out of their shells, making them better people and better citizens," he says. "The senior level is all about turning you into a leader."
When he's complete with training and his bachelor's degree, Alexsander will be qualified to become an officer in the U.S. Army. He will be in charge of a team of 30-plus soldiers.
His time in the ROTC has helped him take charge of his future in more ways than one, Alexsander says. The training has helped improve his communications, critical thinking and time management skills. He's also taken ethics and leadership classes.
"Ever since I joined ROTC my grades have skyrocketed. My peers and family now see me as a leader," he says. "I think the tools prepare you not only for success as a military leader, but as a civilian professional in any career."
Students who are considering joining the ROTC need to be honest with themselves about their ability to commit to the training and program, Alexsander says. "At the end of the day, you're going to be a part of the U.S. Army. This is serious business; there's no room for mistakes or second guesses."
To learn more,
talk to your school's ROTC officer or visit
www.goarmy.com/rotc
ROTC Fast Facts
• The Army Reserve Officers' Training Corps (ROTC) started in 1916 when President Woodrow Wilson signed the National Defense Act.
• Since its inception, Army ROTC has become the largest commissioning source in the American military.
• There are more than 20,000 Cadets currently enrolled.
• Women were first commissioned into the ROTC in 1976. Today, they make up 20% of the Cadet population.
Famous Army ROTC Alumni:
Colin Powell
former Secretary of State and Chairman of the Joint Chiefs of Staff
Samuel Walton
founder of Walmart
George C. Marshall
former Chief of Staff of the Army
Samuel Alito
Associate Justice of the Supreme Court