Ever wonder how some students score such cool jobs and internships? We caught up with two recent college grads to find out their secrets.
Your Biggest Fear Could Be Your Greatest Passion
Shaesta Waiz – Founder and Pilot at Dreams Solar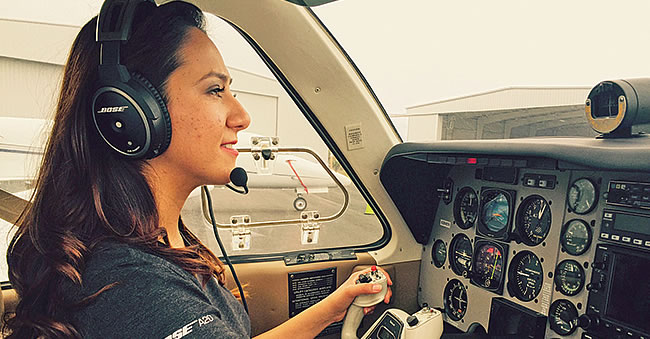 "If you don't find an existing career you're passionate about, create one. Be an entrepreneur and find a way to create a business around what you enjoy."
Captain Shaesta Waiz, 29, 2010 graduate,
Embry–Riddle Aeronautical University, Daytona Beach
Earned her first master's in 2014;
currently working on her second from Embry-Riddle
Tell us about your cool job. I'm about to become the youngest woman to fly solo around the world. Our goal with Dreams Soar is to use my flight to inspire the next generation of STEM (science, technology, engineering and math) professionals. When the flight is over, I'll stay busy promoting the same mission on the ground. Though I'll still fly as often as I can.
How did you know this was what you wanted to do? I was born in an Afghanistan refugee camp during the Afghan Civil War. My family came to the U.S. when I was barely a year old. Based on my family's cultural heritage, I figured my future would consist of marrying young, having a big family and that would be my life. It was hard for me to envision what the world was like. I had heard about places like Africa and Europe, but I had no connection with them. My family couldn't afford to travel, and even if we could, I was afraid to fly. But after getting accepted to study criminal justice on a full ride at Sacramento State University, my parents bought me a plane ticket to see family in Florida as a graduation present. I was terrified! But the moment we were airborne my fears disappeared. I remember thinking: This is what everyone is talking about! This is incredible! When we landed, my aunt picked me up and asked what I wanted to do. I said I didn't want to leave the airport. After that experience, I switched career paths and applied to Embry-Riddle. I always say your biggest fears could turn into your biggest passions. You'll never know unless you face them.
Best moment of your career so far? When working on my private pilot's license, I contacted the Afghan government for a list of female pilots who could mentor me. They wrote back and said there was no record of any woman in Afghanistan being a pilot. When I got my license in 2010, I sent them a copy and said they could give my information to any local woman who wanted to become a pilot. They wrote back and said congrats, you are the first female pilot from our country.
What do you like best about your job? You get to see so much of the world and meet so many people from all over. In the plane you can connect with nature and life at a whole new level. The sense of freedom is incredible.
What don't you like? There aren't a lot of women in the industry. It's great to work with men, but sometimes they treat me differently. If I were a guy, no one would call me cute or ask if I needed help. We need more women involved to make the field more diverse.
The Best 10 Weeks of My Life
Kevin Yang – IBM Maelstrom Internship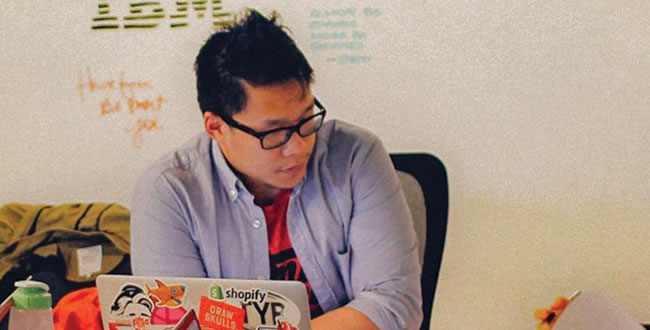 "Find the thing you love to do in your free time and try to make a career out of it. I don't view design as work, it's part of my life."
Kevin Yang, 24, 2015 graduate
Full Sail University, Winter Park
Tell us about your cool internship. Three times per year IBM sponsors up to 15 designers to come to its Austin, Texas, headquarters to work on the company's products. It was the best 10 weeks of my life. I can't say too much, but my team helped build a piece of software that is currently up for a patent review. That means we created a piece of technology that never existed before. It could change how things are built all over the world.
How did you get the internship? I'm very active on a site called dribbble.com. It's basically an Instagram for designers, a place where you can post your work and show off a little. Someone from IBM saw my profile and reached out to me. We connected on Twitter and then on the phone. He put me in the pipeline, and a few months later I ended up in Austin.
How did you know this was what you wanted to do? I used to mess around with Photoshop and Illustrator in middle and high school. A part of me wanted to go to art school, but I ended up attending Carnegie Mellon University to study mathematics instead. When I was just a few classes away from graduating, I went home for break and started flipping through some of the designs I created when I was younger. I thought, man, I had so much fun making this stuff. I couldn't remember a single instance when I was working on math equations that I found fun. Sure, it was enjoyable and satisfactory, but never fun. I left Carnegie Mellon and enrolled in the design program at Full Sail.
What kind of skills and interests does someone need to excel as a designer? A lot of people think design is synonymous with art. But in my opinion it's more of a science than an art. I think art is about getting outside the box, whereas design is about working in the box, but getting as close as you can to the border. If you enjoy observing the world around you and trying to figure out how things work, I think design would interest you.
Now that the internship's over, what's next? I'm moving to New York City to work at a startup called DigitalOcean. I'm stoked.